Keynote Speaker: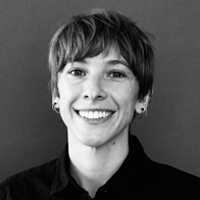 Natalie Wolchover is an award-winning science writer based in New York City. She has covered the physics beat on staff at Quanta Magazine since the magazine's launch in 2013. She has also written for Nature, The New Yorker online, Popular Science and other publications. Natalie has a bachelor's degree in physics from Tufts University. During her undergraduate career, she co-authored several peer-reviewed papers in nonlinear optics, gave talks at conferences and did summer research stints at the University of Bath and the University of Oxford. In 2009, after a year's hiatus spent working on an organic farm and living in a tent, she entered graduate school for physics at the University of California, Berkeley. She left during the first year to pursue physics writing, and has never looked back.
Jordan Harrod is a PhD student in Medical Engineering and Medical Physics at the Harvard-MIT Division of Health Sciences and Technology program. She works at intersection of non-invasive brain-machine interfaces and deep learning for clinical pain and anesthesia under Dr. Ed Boyden and Dr. Emery Brown. She received her Bachelor of Science in Biomedical Engineering from Cornell University in 2018. Her YouTube channel focuses on engaging the public on artificial intelligence. You can follow her on Twitter @JordanBHarrod.
Panels
Who is in charge of communicating science
Whose job is it to communicate science: journalists, press officers, podcasters, or scientists themselves? Communicating science with the public is an important responsibility that we all share, but there are many ways of doing it. So how exactly do discoveries get from the lab to your news feed? This panel will explore some of these careers and the unique role they each play in spreading scientific awareness, as well as how they work together to reach this shared goal.
Panelists:
Nick Edwards
works in biotech strategy at Illumina  and is the host of the
Once a Scientist Podcast
, where he talks all-things-career with scientists across industries and roles. Nick completed his PhD in Neuroscience in a partnership program between Brown University and the National Institutes of Health. After completing a postdoc at UC San Diego, Nick worked as a strategy consultant at Boston Consulting Group. Twitter: @NickEdwards

Brittany Fair,
MS, (she/her/hers) is a science communicator based in San Diego, CA. She works at the Salk Institute for Biological Studies where she writes articles for Inside Salk magazine and press releases for upcoming scientific papers. She also produces science videos and co-hosts Salk's podcast, Where Cures Begin. She previously worked at CNN International on camera and as a writer for a commercial production that was estimated to have reached almost 400 million homes. She also interned as a science writer at Brigham and Women's Hospital, writing press releases and working on their print and online publications. She holds a BA in philosophy, a BA in animal ecology, a postgraduate certificate in premedical studies and a MS in neuroscience. She has taught courses and workshops all over the country including Psychology and Neuroscience at EXPLO at Yale University, Anatomy and Physiology at Colby-Sawyer College, and The Neuroscience of Yoga at MIT. She currently volunteers as a board member for the San Diego Science Writers Association, a community manager for the National Science Writers Association, and a social media manager for the San Diego Triathlon Club. She is also proud member of The Luxuriant Flowing, Former, or Facial Hair Club for Science Journalists. Twitter @brittanydfair, Instagram @brittanydfair
Dr. Steffanie Strathdee
is an infectious disease epidemiologist who is Associate Dean of Global Health Sciences and Harold Simon Professor of Medicine at the University of California San Diego where she codirects the Center for Innovative Phage Applications and Therapeutics (IPATH). Strathdee was recently credited with saving her husband's life from a deadly superbug infection using bacteriophages –viruses that attack bacteria. The case, which involved cooperation from three universities, the U.S. Navy and researchers across the globe, shows how phage therapy is a future weapon against multi-drug resistant bacterial infections which are expected to kill 10 million people per year by 2050. Strathdee and Patterson co-authored a book on their story called
The Perfect Predator: A Scientist's Race to Save Her Husband from a Deadly Superbug
. For her efforts to revitalize phage therapy in the West, she was named one of TIME magazine's Most Influential People in Health Care in 2018. Twitter: @chngin_the_wrld
Jonathan Wosen
, biotech reporter for the San Diego Union-Tribune. Before becoming a full-time science writer, he received his PhD in immunology from Stanford. While at Stanford, he also did freelance science writing and hosted the podcast "Goggles Optional." Before coming to the Union-Tribune, he received an Master's in Science Communication from UCSC, was an AAAS Mass Media Fellow, and interned at STAT News, the Santa Cruz Sentinel, and Knowable Magazine. Twitter: @JonathanWosen
Using SciComm to Foster Equity, Diversity, and Inclusion in Science and Beyond
ComSciCon-SD has hosted a diversity and inclusion panel over the past two years of the conference, and as systemic issues around equity and justice continue to be increasingly and rightfully highlighted in our society, we're excited to continue the dialogue this year. Panelists will discuss the distinctions between diversity, inclusion, and equity, the need to address all three within and beyond the scientific community, and the role science communication can play in this process.
Panelists:


Ashanti Davis  joined the Exhibitions Department of the Fleet Science Center in February 2014 as a Tinkering studio Coordinator. Now, as Exhibition Manager, she leads an interdisciplinary team in the development of unique experiences and exhibitions for visitors of all ages to the Fleet Science Center. Davis is a co-instigator and leader of an internal group for Diversity, Inclusion, Equity, and Accessibility, seeking to make an impact on organizational culture and systems. As someone who represents both culturally and cognitively diverse communities, she understands the necessity for cultural competency and the decolonization of museological practice and leadership, ultimately shifting the ways in which museums engage intentionally with their entire community. Davis was a participant in an NSF Funded project called "Informath" where she explored the cross-sections between Art, Math, and Science in informal learning environments as apart of a collaborative of learners and is an Alumni Fellow of the ASTC Leadership and Diversity Fellowship program. She received a BA in Creative Arts and Communications in 2009, is currently enrolled in a Masters in Museum Studies program with Johns Hopkins University and upon completion of her masters, looks forward to continuing her work in museums and leading meaningful change through lenses of social justice, curiosity, and creativity for museum staff and visitors as an Exhibits Director and future VP of Inspiration.
Dr. Elizabeth H. Simmons  is a highly distinguished theoretical high-energy physicist, academic leader and an advocate for access, equity, and inclusion in higher education. Dr. Simmons is the Executive Vice Chancellor for Academic Affairs and Distinguished Professor of Physics at the University of California San Diego. She previously served as Associate Provost for Faculty and Academic Staff Development, Dean of Lyman Briggs College, and University Distinguished Professor of Physics at Michigan State University (MSU). Dr. Simmons is the recipient of many prestigious awards including a CAREER Award from the National Science Foundation, ACE Michigan Network's Distinguished Woman in Higher Education Leadership Award, and MSU's Robert F. Banks Award for Institutional Leadership. She is a Fellow of the AAAS, a Fellow and Outstanding Referee of the American Physical Society (APS), a General Member of the Aspen Center for Physics, and serves on the Association of American Colleges and Universities Board of Directors. Dr. Simmons is dedicated to diversity in the physical sciences. She served as US Delegate to the International Conference on Women in Physics in 2008 and 2011, and co-organized conferences on professional development for women physicists in the developing world at the International Center for Theoretical Physics in 2013, 2015, and 2017. Dr. Simmons is a member of the organizing board for the advocacy group LGBT+ Physicists and a co-author of the 2016 APS report on LGBT Climate in Physics.
Maryam Zaringhalam
is a molecular biologist turned science policymaker and communicator. Before moving to Washington, DC to become an AAAS Science & Technology Policy Fellow at the National Library of Medicine, she received her PhD at the Rockefeller University. She is also a Senior Producer for The Story Collider and serves as a Leadership Member of 500 Women Scientists. Her writing has appeared in outlets like Slate, The Washington Post, and Undark. Find her on Twitter at @webmz_ or visit her personal website 
Maryam Zaringhalam
Responsibility when communicating science
Amidst increased efforts to sew distrust in science by parties whose interests and ideologies would benefit from doing so, we feel it important to hold a dialogue on how scientific information is communicated in a responsible manner. Panelists will discuss broad concepts in ensuring ethical, accurate and reliable communication of scientific procedures and results. This may include, but is not limited to: addressing contentious topics, highlighting systematic biases, disclosing conflicts of interest, incorporation of measurement uncertainty, handling disbelief and/or accusations from skeptics, avoiding overly-general claims.
Panelists: 
Heather Buschman has 12 years of experience communicating science to non-scientists. She earned her Ph.D. in molecular pathology at UC San Diego and completed a health communications internship in the National Cancer Institute's press office. She spent her first years away from the bench as a science writer and communications manager for the Consortium for Functional Glycomics at The Scripps Research Institute, Sanford-Burnham Medical Research Institute and NuVasive, a medical device company. She is currently Senior Communications and Media Relations Manager for UC San Diego Health, where she translates complex research findings into lay-friendly stories in the form of press releases, newsletter articles, magazine pieces, podcast episodes and more. Buschman also continues to freelance, writing articles for a variety of clients. She has won a number of awards for her work, including an Association of American Medical Colleges Award for Excellence, Health Care Communicators Finest Award, MarCom Award, Content Marketing Institute Gold Award and PR Daily's Nonprofit PR Award.
Daphne Figueroa: "I have been a community college professor for over 30 years.  I taught part time in the mid-eighties at San Diego City College in their off campus programs at SDSU and Naval Station.  I was hired in 1989 full time at San Diego Miramar College and have been there ever since.  I have taught almost every chemistry course that we offer, and I was the first full time chemistry professor at Miramar.  I will be retiring at the end of this academic year, and who knows where my path will lead?  My B.A. is in Chemistry from Pt. Loma Nazarene University, M.S. in Physiology/Pharmacology from UCSD, and PhD. In Education (with an emphasis in chemical education) from the joint program between SDSU & Claremont Graduate University.  My dissertation topic was "Student Success in General Chemistry", and I love helping students learn and succeed in their chemistry courses.  I have been a member of the American Chemical Society since 1989, I served as San Diego Miramar College's Academic Senate President for 4 years, and have been an advisor or co-advisor for several student clubs over the years (Science Club, Red Cross Club, and currently ACS Students Affiliates).  I have a son who just began full time at San Diego Miramar College; my husband is a retired letter carrier, and we have a rescue terrier named Aggie who is 5 years old."
Ariana Remmel (they/them) is a science journalist based in Little Rock, AR. They previously attended UC San Diego as a chemistry PhD student before leaving with a MS in 2019 to attend the UC Santa Cruz Science Communication Program. While there, Ariana worked for The Monterey Herald in Monterey, CA and KQED public radio, an NPR affiliate for the Bay Area. Ariana covers topics across science, health, environment, and technology through an audience-focused lens. Ariana's journalistic philosophy is centered on writing about "hope with teeth"—making sure that science news is accessible to the people most impacted by the results. Currently, Ariana is the Editorial Fellow at Chemical & Engineering News, a magazine published by the American Chemical Society, and a 2020 National Association of Science Writers Diversity Fellow.